Graphics:

The graphical style in this game is one that fans of the series are sure to be familiar with. It reuses many of the same backgrounds and sprites from previous Castlevania's starting with Rondo of Blood and all the way up through the more recent games on the Nintendo DS. For this being an arcade game that is perfectly acceptable since the graphical style invokes a sense of nostalgia. But for people that may be
new to Castlevania games they may consider the graphics

to be poor. Let me talk about the camera, now you have very good control over how much the game is zoomed in or zoomed out which allows you to even zoom out far enough to see the entire castle. This is very neat especially when your the first to make it to the boss room and want to see how close your teammates are to joining you. The frame rate in this game is solid. There's typically lots of different magic, attacks and enemies flooding the screen and the frame rate always stays constant never bogs down.

Sound:


The music, sound effects and voice acting in this game is all very good overall. Some of the sound effects are reused from previous titles like many of the assets of the game but they all seem appropriate for the action they are trying to convey. The voices in this game for each character are all very well done. My only complaint is that some of the characters can be heard no matter how far from you in the castle they are. But you can always adjust the sound settings to fix this. The music has always been a high point in the Castlevania franchise and it's no different here. The music is top notch, most of the tracks are remixes of old tunes fro

m previous Castlevania titles.

Gameplay:
Basically your objective throughout the game is to reach the boss of each level and defeat him. Upon defeating the boss you'll receive a special chest which typically contain some of the best loot in the game. Sounds simple but some of the levels can tend to be very complex at first but once you get the hang of them you'll find yourself able to burn through them in le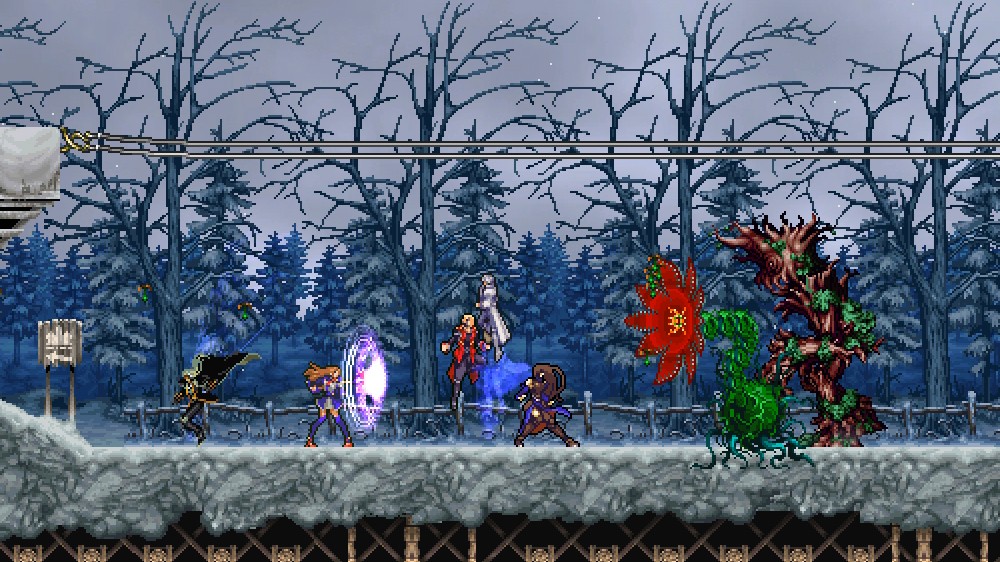 ss than 5 minutes. It plays and controls like a typical Castlevania game if you've played any of the DS games over the recent years you know what to expect. There's initially 5 characters to choose from but more released as DLC (see DLC section). The 5 characters are: Jonathon & Charlotte (Portrait of Ruin), Alucard (Symphony of the Night), Shanoa (Order of Ecclesia), and Soma (Dawn of Sorrow). There's plenty of variety with the base characters so you should find at least one that suits your play style. The game supports up to 6 player co-op and when you collect chests everybody gets loots so there's no worries of somebody hogging all of the loot.

DLC:
As of the time of writing there has been a considerable amount of DLC released for Harmony of Despair. There has been 3 new levels, 2 music packs and 4 new characters (Julius Belmont, Richter Belmont, Maria Renard & Yoko Belnades). The new levels contain an all new boss and new musical tracks as well which is nice. The new characters can use some of the same equipment you already have from playing previous characters but also have some exclusives as well. The DLC initially seems overpriced but after playing through it many times you quickly realize that you got your moneys worth. There's still more to be released in the coming weeks and I'd say if you really enjoy the game check it out as it definitely adds a lot.

Conclusion:
Although I've enjoyed the game with the highest of praise I can't say I can honestly recommend it for everyone. This game does a lot to keep fans of the franchise happy and by doing so it might alienate some of the newer players who have never played a Castlevania title. So I do recommend this as a buy, but if your still on the fence definitely check out the demo on the Xbox Live Marketplace but be warned as the demo does not do justice to how awesome this game is. Especially since it shines in 6-player co-op.